Do You Want to Train Your Puppy to Be Well Mannered and Nice to Be Around?
Puppies are cute, we all fall in love with them.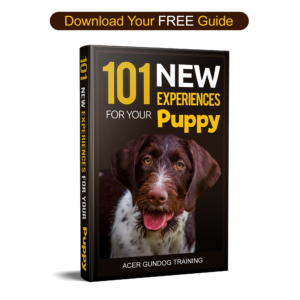 Whenever you take your puppy out, everyone you meet smiles when they see him. Complete strangers come up and want to pat his head.
Very quickly though, he'll start to grow before your very eyes. Bigger also means stronger and, as that happens, you'll soon want to ensure that he turns into a well-mannered dog that's nice to be around.
Gundog breeds are bred to hunt and chase after things. These behaviours are a part of your dog's natural predatory instinct and you'll soon start to notice these if you don't work to build a strong bond with your dog. With specialised training, you can channel his limitless energy in a positive way to stimulate his brain.
He chews things if he's left in the house
Leave a bored puppy to his own devices and you'll soon see your expensive furniture or favourite shoes get shredded whenever you leave the house.
He pulls on the lead all the time
What started out as a cute bundle of fur that didn't weigh very much when he was only 2 months old is now pulling you down the path on the end of the lead.
He's badly behaved around other dogs
If your dog is uncomfortable being around other dogs this is normally a sign that he wasn't properly socialised as a puppy. A dog that lacks confidence can show fear when other dogs approach. A dog that has too much confidence will bully other dogs and refuse to listen to its owners shouts to come back.
He jumps up, he nips people we meet, he goes crazy when someone comes to the door
Just like humans, young dogs need to learn social skills. They need to learn that rules apply when it comes to their behaviour with both humans as well as other dogs.
What is The Puppy Programme?
At Acer Gundog Training we understand that bringing anew puppy into your home can be a daunting experience. Sure, there are plenty of books you can read, but a lot of what you read can be confusing.
Our aim is to help you get it right, from the very start of the relationship with your dog, so that you can both enjoy life together. You have a window of opportunity whilst your puppy is young to encourage good behaviours now that will last a lifetime. Allow your puppy to learn the wrong behaviours and you'll have a much tougher job on your hands in a few months time.
With The Puppy Programme, we take a holistic approach to provide you with advice and help you train your new family member. For us to work with you most effectively, it is important to first see the environment your puppy spends most of his time and meet the people he spends most of his time with.
At the end of the programme our clients have achieved the following results with their puppies:
reliable recall – even when other dogs are around
walking nicely at their side whilst on the lead
comfortable around people or other dogs
a well-mannered and much happier dog that is part of the family and nice to be around
What our clients say…
"My dog and I are both really enjoying puppy class and appreciate Mark's calm and sensible approach… And we are learning loads! I wouldn't hesitate to recommend him." – Gina F
"My dog and I love our training sessions with Mark, he's very adaptable for your dogs' needs and I would highly recommend him." – Nikki W
"Excellent training from Mark. Always gives new insight into what my dog may be thinking! Enjoyable too." – Joyce M
What's included in the programme?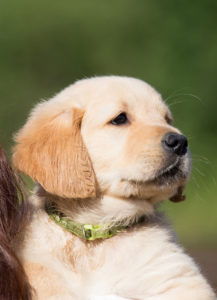 Home Visit – by visiting you at home we can see the environment in which your dog lives and we can meet the whole family. As we come to you, we can arrange to meet as soon as your new puppy arrives in your home, even before he has had his vaccinations. We can answer any questions you may have about how to care for the new addition to the family, feeding, sleeping through the night, toilet training, nipping, or jumping up.
Individual Training Session – during your Home Visit we can start training the basics. The best place to always start is away from distractions, especially other dogs. During your Home Visit, we can devote our time together to developing the behaviours that you want to see and give a real head-start before you come to puppy class. It is up to you who in the family comes to this session, but involving all parties is a great way for the family to build a bond and enjoy being with your puppy as he grows up.
Additional bonuses included for free:
Priority booking on the next term of Puppy Classes (normally full & wait-listed)
Unlimited Telephone & Email Support for 3 months
The Puppy Programme costs £99
  (plus a small charge for mileage if you live more than 10 miles from SG8 0PD)
Book here
Terms & Conditions apply