Intermediate Gundog Training Classes are suitable for dogs who have a good level of obedience, are steady around distractions and have a reliable recall. They will have reached a standard similar to the other dogs in this class who will have completed our Junior Gundog Training Class.
They are not just for owners who want to train their dog to pick-up or compete in trials, but also for owners who just want to develop the natural talents of their pet gundog.
In this class we focus on the specific skills that your dog will need to use in regular gundog work and dogs spend a lot of time off the lead, working.
As with all our classes, we will be outdoors in the countryside. We will work in different environments – from the short grassy area down to the meadow containing long grass, woods, water, running lanes and obstacles to jump.
Our Intermediate Gundog Training classes run on a continuous, or ongoing basis. Unlike other dog trainers, we don't operate courses or terms with any of our classes. The benefit of this is that you can join as soon as space in class allows, and can continue your gundog training in this class for as long as you want.
Your dog will have plenty going on around him and you will be helping him enjoy doing the things he loves by working together in partnership with you.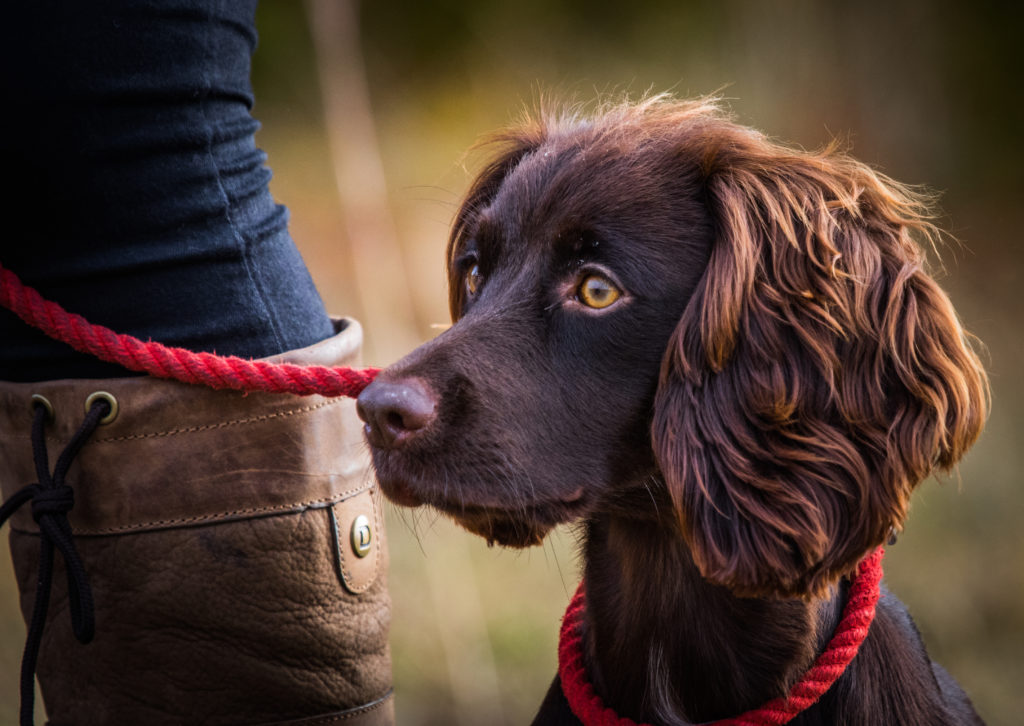 This class will prepare your gundog to perform the following tasks:
Heelwork: (off-lead) left & right turns, about turn, past distractions such as other dogs and a rolling ball
Sit/stay: 4 minutes with owner at 50 yards, out of sight for 10 secs and whilst dummies are thrown
Recall Whistle: 50 yards
Stop Whistle (whilst hunting) & Recall from 25 yards
Marked Retrieves: from cover at 80 yards
Memory Retrieves: from 30 yards
Blind Retrieves: from 30 yards
Split Retrieves: multiple dummies, no swapping
Directional Control: Casting Back, Left and Right
Use of Hunt Whistle
For a full list of what's included in the classes and required to progress to the next class, click here.
Intermediate Gundog Training Class: Days & Times
All our classes are held at the training ground in Bourn.
Cost every 6 weeks is: £90 (payable before your first class)
Saturday at 9:30 am